WordPress is a free and extremely popular content management system used by millions of websites across the web. Despite this, there's still a misconception going around that it's not good enough to power truly big websites, and should only be used for blogging purposes.
The truth is, the days when WordPress was used solely as a blogging platform are long gone. Nowadays, it has grown to be one of the most reliable and easy-to-use content management systems with more than enough room for expansion. As such, it is capable of housing big-scale websites owned by major corporations, online retailers, news outlets, nonprofit organizations, etc. In short, there's no niche that WordPress can't cater to, which is also why so many big-name brands use it to build their websites.
To demonstrate its power and practicality, we've singled out some of the big companies that use WordPress as their platform. Most of these companies are big names in their respective industries with an impressive history and excellent reputation in their own right.
But before we begin with our list, here are some of the key reasons why using WordPress for your website is a great idea.
Why Use WordPress for Your Website?
WordPress is Scalable
It can grow and expand hand in hand with you or your business. No matter how much traffic you gain or how much you end up expanding your website, WordPress will be able to handle it all, and then some.
WordPress is Free
This is easily one of the most convenient things about this popular CMS since it means that anyone can use it in any way they like. At the same time, this is also why WordPress has managed to grow so much, coupled with the fact that there's a vast online community that keeps contributing to the growth and improvement of this open-source platform to this day.
WordPress is easy to use
It's no secret that WordPress is the perfect platform for new and inexperienced users. It is easy to set up and comes with a user-friendly and practical admin interface that requires no coding to manage and use. On the other hand, if you know how to code, WordPress will allow for that, too. All this makes WordPress ideal for pros and beginners alike.
WordPress is flexible
There are many third-party plugins and free and premium WordPress themes with additional features and functionalities that allow you to design any type of website without changing any code. This is a huge part of the reason why there are millions of WordPress-powered websites out there, and every one of them looks unique compared to others.
WordPress is SEO-friendly
Coming with the code that follows the best SEO practices and allows you to organize your content in a way that will give you a higher rank on search engines in general, WordPress is a great platform for establishing online reputation and boosting the growth of your business as a whole.
Of course, there are plenty more reasons why WordPress is a great choice, but these are the most essential ones, which is why we simply had to go through them before we move any further.
With that said, here's a list are some of the big-name companies and brands that have taken full advantage of the benefits that WordPress brings and have managed to build a professional online foundation deserving of their name:
BBC America
BBC America is a popular television network that has made great use of the WordPress platform, efficiently showcasing its broad program range such as drama, sci-fi, entertainment, lifestyle, natural history, and so on. Their homepage features sections dedicated to various shows that can be watched on their network, accentuated with beautiful hero images as previews.
Microsoft News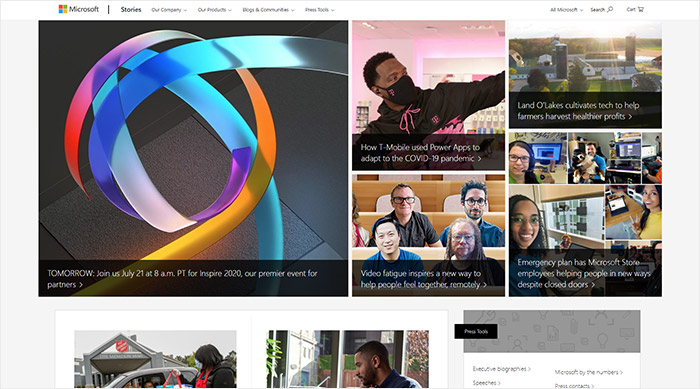 Microsoft News website, also built in WordPress, features a plethora of articles related to this multinational technology company, including its products, news, stories, and more – all with the help of a simple, magazine-like layout.
Playstation Blog
Official PlayStation Blog also uses this popular CMS as its platform. At the very top, the header features the gaming giant's upcoming release, followed by a featured post right up there, along with trending posts, as well as latest videos and trailers that have been created by this famous video game brand.
CBS New York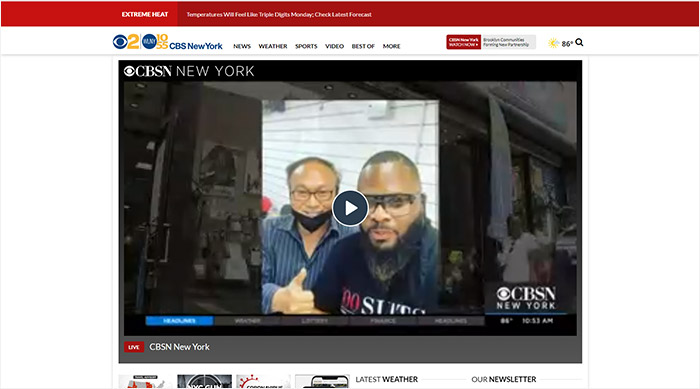 CBS New York is a local news network that features breaking news and other New York-related stories on their WordPress-powered website. There's a detailed mega menu with different news sections split into categories, with a large video player that features live news coverage at the top. The rest of the page allows you to browse through featured stories & web exclusive.
NASA Blogs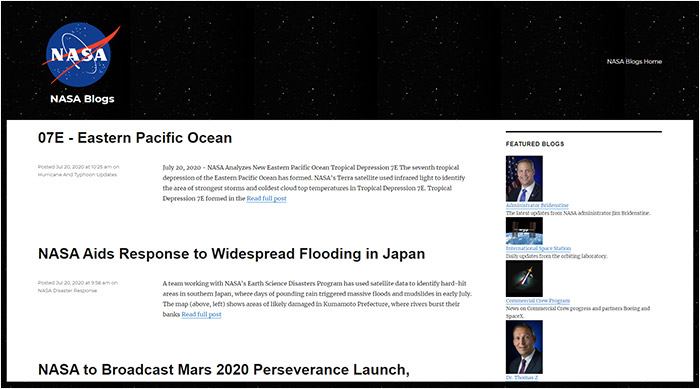 The NASA Blogs website has a simple and clean blog layout style, with the latest articles available across the homepage with a simple read more link that leads to the article in question. There's also a sidebar section that contains a list of featured and other NASA-related blogs.
James Bond
Yes, even the official James Bond website uses the WordPress platform, quite successfully, too. With a home carousel slide located at the top and Bond-related stories and articles neatly styled in the masonry blog layout, the page looks elegant, smooth, intuitive, and timeless in its essence – much like the character of the legendary 007 agent and his story.
Usain Bolt
Usain Bolt's WordPress-powered website comes with a stylish full-width slider at the top that lists various images of the fastest man in the world and allows you to click on various related links and articles. There's also a beautifully streamlined blog list of his latest updates and news.
The Rolling Stones
The official website of the legendary rock band, The Rolling Stones, has also found its ideal home in the popular CMS, featuring a fun animated image of the trademark Rolling Stones logo and a huge colorful slide group as a centerpiece of its lively design. You can learn more about the band's tour, various related news, and browse their online store if you're interested in buying band-related merch.
Bloomberg Professional
Bloomberg Professional website opens with a video slide section and contains a huge mega menu filled with their numerous services, solutions, and insights that they offer. The entire style of their website is very modern and professional, with black and white sections and other contemporary elements.
The Walt Disney Company
The Walt Disney Company has a WordPress website built with a bright and colorful style, as is expected of this well-known family-oriented entertainment and media enterprise. The recent news is nicely listed at the top, and you can also learn more about their philosophy, charity work, investor relations, and more.
Best WordPress themes 2019
Vogue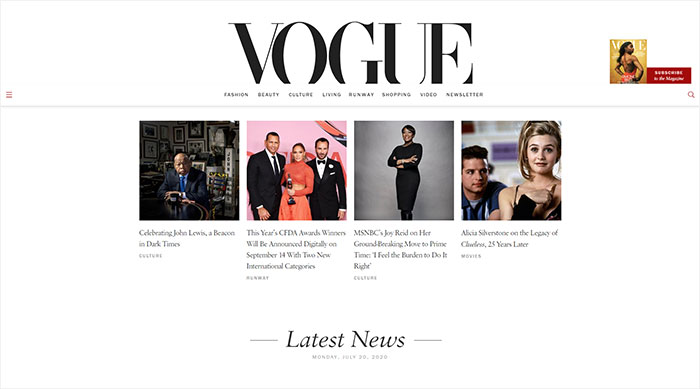 Vogue is an eminent American fashion and lifestyle magazine with a striking website based on an elegant infinite scroll newsfeed. The homepage is packed full with latest news and articles from categories like beauty, fashion, living, and more, along with a few single-story images and a four-story list section with featured articles at the top.
New York Post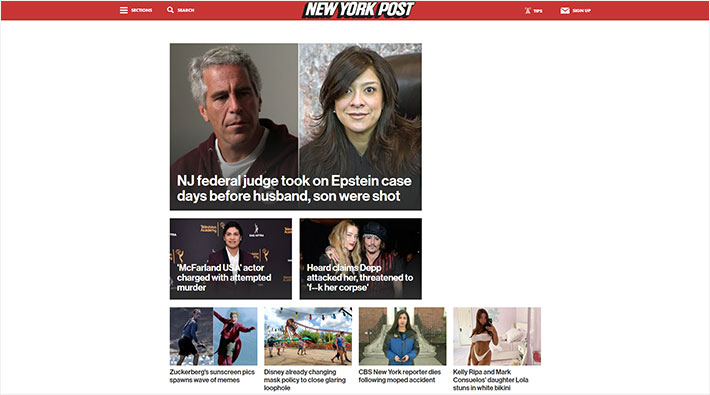 New York Post is another newspaper website that reports all New York-related news and stories in a streamlined and professional manner with the help of WordPress. Front page opens with headline news for the day, followed by neatly arranged featured news, videos, and photos sections near the bottom.
Angry Birds
The website of this well-known mobile game and movie franchise has a distinctly vivacious and colorful design reminiscent of the Angry Birds style, with bright backgrounds, animated sections, and sharp hover effects on the buttons. The website allows you to download their games, watch movie trailers and other related videos, and explore their shop.
Variety
Variety is a weekly entertainment publication with a WordPress website that covers a broad spectrum of news related to TV, film, music, tech, theater, and more. There's a neatly designed magazine layout split into sections related to different types of content, while a fullscreen mega menu reveals a nicely organized category section when you open the hamburger button.
TIME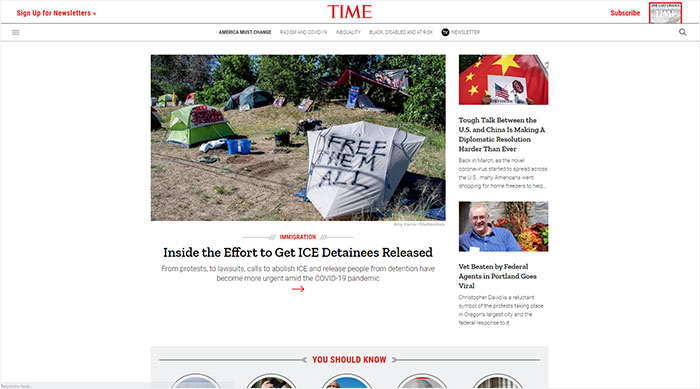 TIME has also managed to build a professional online presence worthy of this US weekly magazine's cult-like status using WordPress. It has a clean layout and well-organized navigation with sections such as Politics, World, Health, Science, History, Sports, and much more.
The Mozilla Blog
Mozilla's Blog shares the latest news about its browser, Firefox, and its community. A well-arranged sidebar and drop-down menu both appear on a mouse click and uncover a list of Mozilla blogs and tagged articles, as well as some of the most relevant categories.
The Obama Foundation
The Obama Foundation website has elegantly styled navigation that appears when hovering on the left side of the screen, and full-width images with various CTAs displayed across the entire webpage. The ex-US president's website allows you to learn more about the mission of the Obamas and to learn how to get involved.
Sony Music
Sony Music website opens with a set of indexable slides that showcase featured artists of this global recording music company. Their website also contains a list of websites from their labels, latest news, and info about different career opportunities.
TechCrunch
TechCrunch is an American online publisher that reports on the tech industry and startups, and also shares video and audio content related to these categories. Clicking the navigational links on the left makes new pages load in a fresh and contemporary manner, with the unique and contemporary design that fits the technology niche.
Reuters Blogs
Coming with a simple grid blog layout, Reuters Blogs website offers various analysis and opinion articles related to the US and the rest of the world, including topics such as technology, entertainment, business, markets, and so on.
Wrapping Up
All the companies mentioned above are iconic powerhouses and reputable in their own right, ranging from well-known news networks and media outlets to technology and gaming companies. But despite each having their own unique business goals and philosophies, all these companies have one thing in common – they've all managed to build their websites quite successfully using WordPress as the platform. Maybe their accomplishments will inspire you to start a website of your own. At Kraftier Studio, we can help you start forging your own path of success with the help of this reliable and scalable CMS.